UVK was established back in 2001 and today is the leading national logistics operator to provide integrated logistics solutions in Ukraine.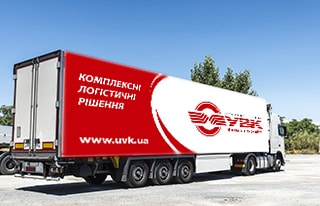 This company is well understood in the specifics of different customers, and able to provide comprehensive logistics services not just shut down one of the business needs. Logistics of the UVK is a competitive advantage for the client, contributes to its dynamic development.
UVK offers customized logistics solutions for many industries, including:
FMCG
Agroindustrial complex
Light and heavy industry
Trade Network
Telecommunications
Pharmaceutical
Automotive
and other places
The most extensive network of offices throughout Ukraine in the pallet format confirms its leading position of the company.
Thousands of customers have chosen UVK.
If you want to know about the experiences and solutions that we provide to companies in your area, please contact us!

UVK provides a complete range of international logistics services on FTL/LTL road, railway, sea and air transportations, …

Regular scheduled distribution of cargo to over 3,000 stores of Ukraine's key retail. Door-to-door delivery of cargo from …

UVK provides a complete range of international logistics services on FTL/LTL road, railway, sea and air transportations, …

UVK renders to its Clients a full range of warehouse services at its logistics terminals, considering: – Overall space …

Within the range of logistics services, UVK has provided since 2001, the company also renders value-added logistics …