UVK provides a complete range of international logistics services on FTL/LTL road, railway, sea and air transportations, including multimodal freight forwarding around the world: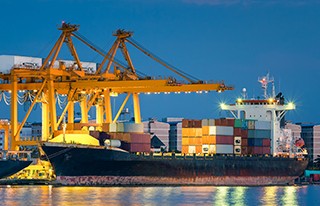 Export-import door-to-door deliveries
Storage, handling and accumulation of consignments in ports
Complete freight management and customs clearance of all types of cargos
FTL, LTL, FCL, LCL transportations
Managements of air freight from 1 pallet up to 120 tons
Transportation of serial-condition cargos
Direct deliveries to the West and East-European and CIS countries
Transportation and customs clearance of personal belongings

UVK respect
Were spect every client. We appreciate our customers' time as high as our own, so make every effort and experience to make a delivery as quickly as possible and comfortable.

UVK multitask
UVK demonstrates highper formancein each area of activity across all the spectrum of logistics services. We offer high-quality solutions for the storage, transport and logistics services for your business.

UVK cooperation
UVK actively cooperates with major logistics centers abroad. The developed network of partners in logistics and warehouses covering the countries of Europe, including ports, that ensures prompt delivery of goods from anywhere in the world.

Openness and justice
Openness and ability not to hear but listen to customers and improve the level of trust makes a large company really successful, strong and andgives it the best human qualities.