UVKHISTORY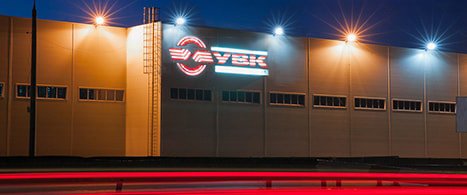 UVK Logistics (UVK Ukraine JSC) was established in 2001.
UVK is a modern 3PL logistical operator offering comprehensive logistic solutions. UVK is a member of the American Chamber of Commerce (ACC) and the European Business Association (EBA).
UVKNews
UVK acted as Logistics Partner at THE XIX ALL-UKRAINIAN LOGIST DAY. Within two days of the conference UVK representatives exchanged views and opinions with colleagues and partners, discussed hot issues of the industry and shared experience. Such events help keep...
UVK provide logistics solutions for FMCG: – availability of modern storage facilities and UVK representative …
Our own licensed pharmaceutical warehouse provides customers with the optimal scheme of the pharmaceutical industry …
UVK's experience and sophisticated infrastructure allows to offer comprehensive logistical solutions for optimization …
Distribution Center for fashion-retailers can efficiently manage logistics from the moment of placing an order up …
UVK offers special comprehensive solutions in organization of distribution centers,
which represent …
UVK services include: – organization of transportation of component parts and equipment for assembly plants by all modes …